Yoga Therapy Training 2023-2025
800 hour Yoga Therapy Training
800 hr Yoga Therapy Program offers training in applying the holistic principles of Yoga as a beneficial and complimentary system of healing. This training is created for those who would like to become a Yoga therapist and help others to heal. 
Dates of 800 hr Yoga Therapy training 2023-2025
The tuition will be $7450 ($250 registration fee, $1200 for each module. The fee includes tuition and certification only, and doesn't include individual meetings with mentor, internship/observation, books. All paid fees are non- refundable.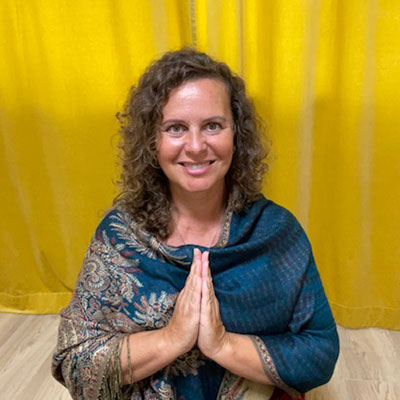 Inga Balciuniene
Program director
Spiritual Healer and Empath, Yoga Instructor E- RYT 500, Yoga Therapist C- IAYT, Vedic Chanting Teacher
Highlights of the program:
The uniqueness of this training will be that it will be taught in the authentic classical tradition of T. Krishnamacharya. Trainees will learn how to use and apply not only Asana   ( Posture) or Pranayama ( breathing) techniques, but also very powerful tools of yoga like Mantra (chanting), Bhavana (visualisation), Nyasa (gestures), Svadhyaya (self-reflections), Ahara (diet recommendations), Mudra ( energetic seals), etc. This training will have a strong connection with the Philosophy of Yoga.
Every trainee will have the guidance of a mentor and will be required to do daily personal practice for self-transformation and healing purposes. We believe that first you have to help yourself before you lead others toward the healing process.
The Holistic Yoga Therapy Training will have 3 purposes: healing, self-transformation and learning how to lead clients toward the healing process.
The following prerequisites are recommended for trainees:
The trainee must have completed 200 hour or 300 hour Yoga Teacher Training in T. Krishnamacharya tradition.
If participant comes from a different tradition, he is required to have an interview with a program director to assess the credibility and quality of his knowledge of Yoga. It may be recommended to take additional Yoga course or mentoring sessions before beginning the Yoga Therapy Training.
Participant has to have experience teaching individual or group Yoga classes continuously for at least one year.
Participant has to have at least one year of personal yoga practice.
Philosophical Foundations:
Yoga Therapy Teacher Training will be taught in the authentic classical tradition of T. Krishnamacharya. This tradition describes Yoga Therapy as a complimentary system of health care where seekers under guidance of qualified Yoga Therapist care reduce symptoms or removes himself from disease using many tools of yoga. Yoga Therapy is a self-empowering process, taught on a one-to-one approach, where the care seeker is responsible for their own healing process.
Structure of Training:
 Yoga Therapy Training will be taught in a period of three years 800 hours. This includes 500 classroom hours (6 residential modules ten days each), 150 hours preparation for practicum (90 hours of internship/ observation, 35 mentoring hours, and 20 documentation hours), and 150 hours of practicum.