Therapeutic Yoga
A Holistic approach to restoring our health.
Welcome to Florida Yoga Academy
Our mission is to help people heal themselves through yoga.
Our experienced and caring teachers will guide you through classes.
 Annual  unlimited yoga classes - only $69.99 a month! 
TIME
MONDAY
TUESDAY
WEDNESDAY
THURSDAY
FRIDAY
SATURDAY
SUNDAY
7:00 AM - 8:00 AM
8:15 AM - 9:15 AM
Yoga Flow with Irina
Yoga Flow with Lisa
Yoga Flow with Irina
Yoga Flow with Lisa
Yoga Flow with Roanne
9:30 AM- 10:30 AM
Therapeutic Yoga with Inga
Energizing Yoga class with Lisa
Therapeutic Yoga Class with Inga
Energizing yoga class with Lisa
Gentle yoga class with Annette
Beginner Yoga class with Roanne
Mixed level Yoga with Velina
11:00 AM - 12:00 PM
Gentle Yoga with Velina
Gentle Yoga with Velina
1:00 PM - 2:00 PM
Kids Yoga with Marion/Inga
2:45 PM - 3:45 PM
4:30 PM - 5:30 PM
Kids yoga with Marion/Inga
5:30 PM - 6:30 PM
Gentle Yoga with Lindsey
Gentle Yoga with Jamie
7:00 PM - 8:00 PM
Beginner Yoga class with Inga
(CALL BEFORE COMING)
Yoga Flow class with Lindsey
Wind down Yoga class with Giedre
Yoga Flow class with Jamie
All Problems
Are Illusions
of the Mind
– Eckhart Tolle
About Florida Yoga Academy!
Our mission is to help people heal themselves through yoga. Our highly qualified, experienced and caring teachers will guide you through classes. Group and private Yoga, as well as Meditation and Breathing classes for all skill levels, are available. Our yoga instructor team provides authentic Krishnamacharya tradition Teacher Training programs and numerous specialty training and workshops of deeper yoga study for yoga teachers and persons new to yoga. We also offer Kids Yoga classes at the studio and local schools.
FLORIDA YOGA ACADEMY, LLC
3046 Del Prado Blvd S Ste 2B, Cape Coral, FL 33904
"Love the studio, Inga, and all of the teachers! Finding inspiration here. Incredible journey including both levels of Teacher training for this new yogi. Just a beautiful place for beautiful souls!"
Diana Stischok Ryan
"I am enjoying the gentle yoga class on Tuesdays and Thursdays, 11-12pm. I feel well taken care of as the instructors have modified the positions to suit my physical needs. I love the space and peace I feel there!"
Paige Vinson
"I practiced yoga at Florida Yoga Academy for four months. I was pretty much a yoga novice. My experience was amazing. The teachers are excellent, personalize your practice and have a sense of humor!"
Sue StLouis
Dear Inga,                                                      "How can I ever thank you for the life changing knowledge you have shared with me? I have learned so much and I will do my best to take the knowledge you have worked so hard to share back to Ohio. I know it will change and benefit many lives.I hope that some day soon you will be able to visit Ohio and see the wonderful effect you have had on the classes. Namaste"
Vicky Burns
February 2013
" Why I come to Inga's studio:
your knowledge, experience, personality, enthusiasm. Variety of classes, workshops, teacher training. Sense of community, feeling of belonging.                                                     Comfortable being myself here, not intimidated.                                                   Opportunities to learn and try new things.                                                            Peaceful environment.                                I feel better after class here physicaly and mentaly."
Jean Marshal 2012
"Dear Inga Teacher, I remember the first yoga class that I joined with you. After the class, in the car, I cried so hard because I felt that my broken heart was open and reconnected to Yoga. Thank you deeply for what you tought to me.
Thanks to you I see my limits, my ego, my weakness, and my greatness. I feel so greatful to have you as my Yoga teacher.
Hwasoon Kim
Community Service Projects, Blog Posts & Other News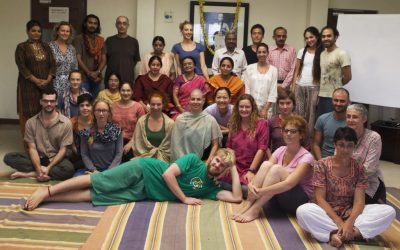 10 years ago I was a gym client, working out with the fitness machines and bored while doing so. You know how it is: you start with enthusiasm, after a month you go because you are paying the monthly fee, later on, you go to the gym less and less. You make hundreds of...
read more
Complete List of Classes & Online Payment
For your convenience, we have included the ability to pay for classes online prior to visiting the studio. However, feel free to do so when you come into class.